Darcie D. Sims, Ph.D., CHT, CT, GMS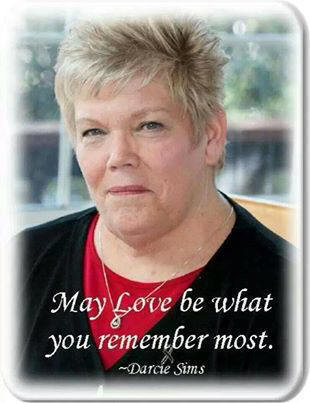 Darcie Sims--mother, wife, grandmother, educator, leader, rose-colored glasses wearer, smile-on-a-stick carrier, and friend--died Thursday, February 27, in her home in Puyallup, WA. Her funeral will be at 1:00pm on Tuesday, March 4, at Bonney Watson Washington Memorial Park. This is the SeaTac location at 16445 International Boulevard. In lieu of flowers, the family requests that a donation be made to the Darcie Sims Memorial Training Fund with The Compassionate Friends (www.compassionatefriends.org.) Darcie's online obituary is online at http://bonneywatson.com/obituaries/detail.html?id=4939 . Please visit and share your memories of Darcie with her family.

Alan Pederson, TCF Interim Executive Director, wrote the following on Facebook today:

"Today our hearts are broken, our dear friend Darcie Sims has died. Darcie was my mentor, but the story of how she affected my life could be echoed by the thousands of others in the TCF Family whose live have been equally touched by her incredible gift of loving guidance.

...Those of us who have had the honor of knowing Darcie will never forget this amazing woman. She was a superstar in our world, and though we loaned her out to the rest of the world, there was no doubt that she was "our" superstar. Darcie was one of us, she listened to our stories, she felt our pain, she walked our walk, she was Big A's mom.

...Many of us are in great pain today; it hurts deeply as we try to wrap our minds around such a profound loss to our TCF Family. I know Darcie would want us to take the time to grieve and be sad for our loss today...but I am betting she would also want us to take a moment to remember that she lived...and oh boy did she live. So, as the tears come, grab a roll of toilet paper and stick it in your pocket, at your next TCF meeeting remember to touch knees with the person next to you...and as you do these things...look upward to where Darcie is once again holdding her precious Big A and say..."Thanks, For The Little While."

You can share memories on Facebook at www.facebook.com/darcie.sims.9 or via eamil at remember@griefinc.com.
May Love Be What You Remember the Most!!